---
Palette Records PALCD-986 / Cordes Sur Bois - Strings on wood
---



Soloist:
Fredrik Burstedt - violin

Ensemle:
The Swedish Serenade Ensemble

Conductor:
Stefan Solyom








Music by:
Mats Larsson Gothe / Per Mårtensson / Joakim Sandgren

Playing time:
79:52

Press release in swedish (.PDF):
PALCD986PRESS

Images from the recording session:
PALCD-986 images



---


Cordes sur bois - Strings on wood. Music written for one of the most appreciated solo
instrument of all times. An instrument that has been there for a long time. The violin.
Five pieces by three swedish composers. Performed by Fredrik Burstedt, the concert
master of the Helsingborg Symphony Orchestra.








Fredrik Burstedt has been working together with the composers, finding out new ways of
playing and coloring the violin sound, in some cases by the use of live electronics.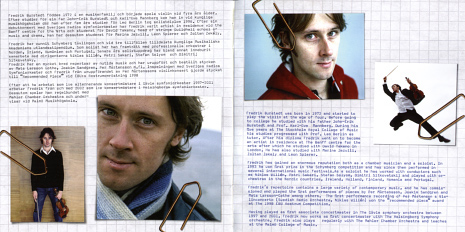 In the awarded violin concerto by Per Mårtensson the composer is playing with the sound
of the violin using live electronics and computer controlled sequences during the performance.



Large version of the presentation of Fredrik Burstedt



Large version of the presentation of composers




---
---


"Cordes sur bois" has been nominated to a grammy in the category "Best Classical Soloist 2005"
The CD was produced with finance from the Swedish National Council for Cultural Affairs. International
distribution: CDA in Stockholm - website: www.cda.se/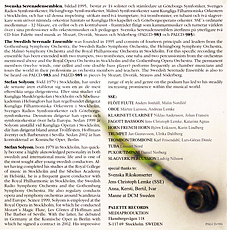 Booklet design: Jonas Sjövall Cover photo: Ewa Levau Booklet text: Tony Lundman
Producer: Patrik Håkansson Recording and editing: Patrik Håkansson




COPYRIGHT 2005 Palette Records - Stockholm SWEDEN